Order Custom Hand-Drawn Artwork From Me
Please plan ahead. Current finish time: 3-6 weeks.
Option to jump the line available.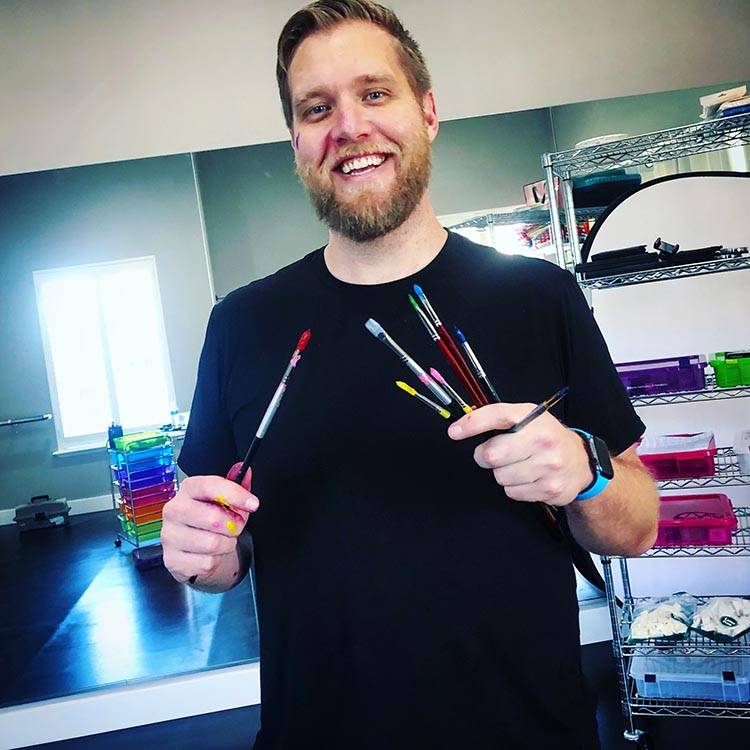 Do you love one of my styles and want to hire me to do custom hand-drawn art for you? I have done custom art for thousands of clients over the years, and I'd love to work with you. I offer all the following custom art options.
Have something different in mind that isn't listed here? Contact me and I'll tell you if I can do it.
For the best experience, I recommend viewing this page on a computer or laptop.
My hand-drawn super detailed pet portraits are really nice and really classy, but they're not necessarily a lot of fun. And that's what my custom animal robot art is... FUN. It's not only really fun for you to own, it's fun for me to make, too! These robot pet portraits are an incredibly awesome and unique way to immortalize your beloved pets (or any other animal you want me to draw).
Don't be deceived by the illustrative nature of these robots. These drawings take as much real time and care to create as any of my other illustrative art, so I charge an honest price for the time I put into them. Because of that, I will love making yours, and you will LOVE what you get back when I'm finished. These are one of my favorite forms or custom artwork, so when I say I'd love to do one for you, I mean it. Click here to view more of the robot animals and pets that I've already done.
CUSTOMIZED "NAME MANDALAS"
How quickly can you spot the name "Lee" that I drew into this mandala?
I have developed my very own style of mandala-style artwork in which I take any names or words you give me (up to four in a single mandala), and I work them into an incredible hand-drawn work of art just for you or the people you love.
I spend several hours on each finished piece to create a one-of-a-kind work of art that is way more than worthy of the price you will pay.No two mandalas ever look even close to the same. The nature of creating mandalas is that as the artist, even I don't know what's going to come out when looking at a blank screen or sheet of paper.
Design elements build on top of elements until the final work of art is finished. That means you get a 100% unique gift to give yourself or to give to someone you care about. And they will love it.

Have an idea for a fun or awesome illustration? I am happy to help you out with that. Illustration is its own kind of art, and I put awesome care into character development, expressions, shading, and lighting to deliver you a one of a kind work of art.
These illustrations will be created using an Apple Pencil on my iPad (via the ProCreate app). This is ideal for you because it will allow me to deliver high-definition, optimized artwork files that you can print large or on all sorts of different apparel and products.

HIGHLY DETAILED PET PORTRTAITS
Most people don't know that a very long time ago, the first real profession I ever had was as an animal artist. Over the course of two years, I drew or painted more than 1,500 commissioned highly-detailed animal portraits and animal works of art. The examples featured on the following page are just a tiny handful of those commissioned works.
Most of my work was done with graphite, charcoal, colored graphite, and watercolor. All of it was always hand-drawn with attention to the tiniest of details, and the same will be true if you hire me to do a portrait of your beloved pet.

Nowadays I complete your art on my iPad Pro, using an Apple Pencil. Technology has made the drawing process and tools so real that you will not be able to distinguish much difference at all between that and something done on paper. If you want it original and done on paper, I can do that too, but it's more of a process so it costs more. Personally, I prefer the iPad because it let's me create layers, which only gives me more options to make the artwork more amazing, and after it is printed out, there will be no doubt in your mind that it was hand-drawn with extreme care.

HIGHLY DETAILED PEOPLE PORTRTAITS
Most people also don't know that a very long time ago, I also was as a portrait artist (even before the animal art). Over the course of a year or so, I drew or painted a lot of highly-detailed portraits and of people's loved ones.
The examples featured on the following page are also just a tiny handful of those finished works. Just like with the animal portraits, most of my work was done with graphite and charcoal. All of it was always hand-drawn with attention to the tiniest of details, and the same will be true if you hire me to do a portrait of your loved one.
Such detailed people portraits take far more care and attentiont than any art that I do, so their cost is the highest of all the art I offer. It should also be noted that I cannot pull details out that I cannot see in your photograph that you send, so only order a custom person portrait if you have a high resolution to work from. If you're not sure, contact me and I'll let you know if your photograph will work.
I will take a symbol, logo, or image that is important to you and turn it into beautiful custom artwork (hand-drawn) with my own unique mandala style and technique. Each part of the image will be unique and breath-taking in its detail.
You are free to use your finished image for any non-profit reason. If you want to use it comercially, I offer that option as well.
Please contact me with your artwork idea before purchasing a package on this page so that I can tell you which option fits your request.

BODY PAINTING SESSION IN UTAH WITH DAN
When was the last time you spent a little money doing something truly emotionally adventurous? That is what you'll be doing if you pay me to paint you, right here in Utah. It'll cost a bit, sure. And it will be worth every penny. You'll have the photos and time lapse video forever and even more than that, you'll experience a type of freedom few people get to experience...

A beautiful liberation like no other...Nudity through art is one of the most powerful liberations you and I can both experience together. You are a stranger to me. I am a stranger to you. And there is this moment when you're sitting there waiting to begin, and after I get my station setup I look at you and say, "okay, go ahead and take your clothes off." There's always this small hesitation, kind of a "do I trust this guy?" moment. You'll have that moment, then you'll remove your clothes. I'll look at you the way I would look at a blank canvas, and I will say, "okay, let's get to work."
What's it a liberation from? For me and most of my models, it completely detaches nudity from anything sexual. Most of us were raised to believe that nudity and sexuality go hand in hand, particularly when another person is seeing us nude. When we are working, we are working. My focus is on the details, and the color mixing, and the art itself. A body painting takes several hours at minimum, which is a perfect amount of time for the mind to just... Let go completely.
To this day, I have never painted a model who didn't want to come back and do it again.