Body Painting Session in Utah with Dan Pearce
When was the last time you spent a little money doing something truly emotionally adventurous? That is what you'll be doing if you pay me to paint you, right here in Utah. It'll cost a bit, sure. And it will be worth every penny. You'll have the photos and time lapse video forever and even more than that, you'll experience a type of freedom few people get to experience...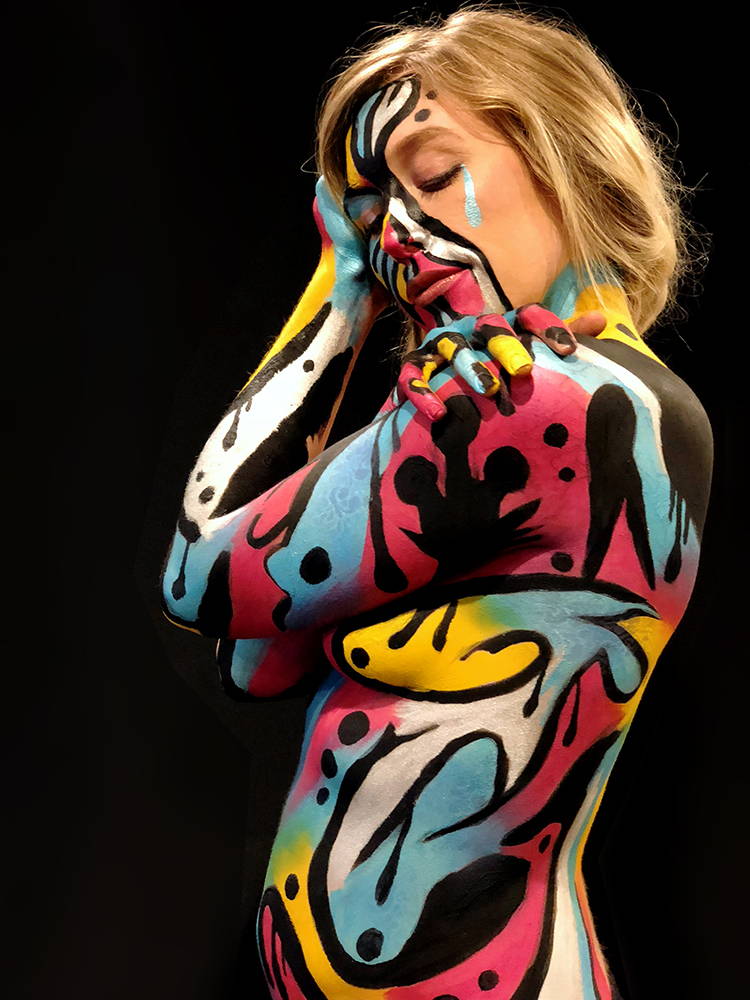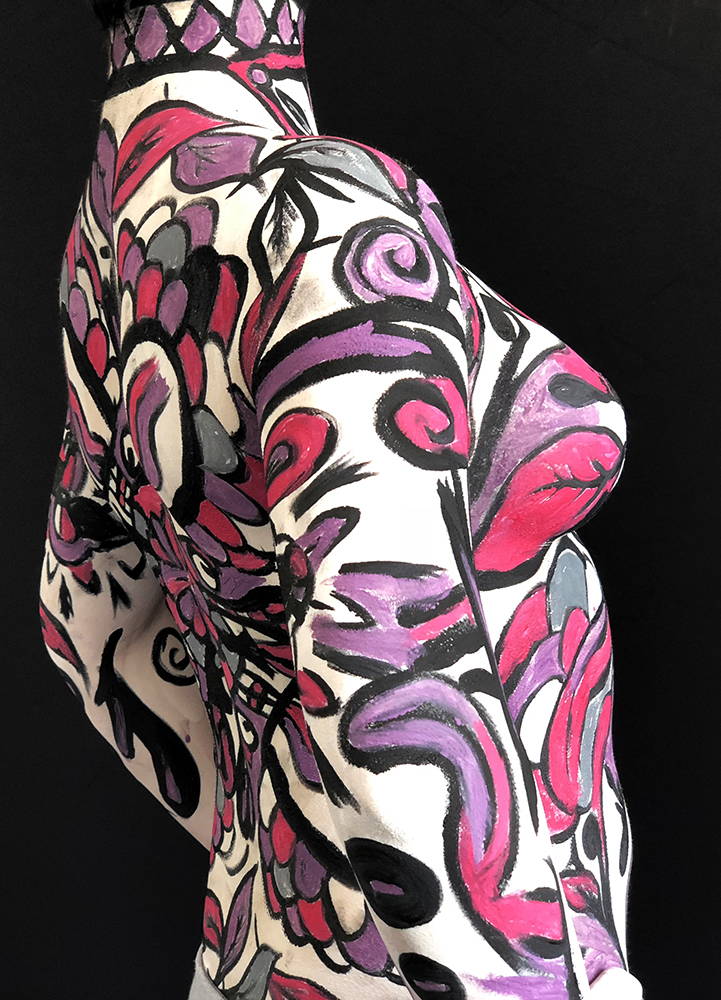 A beautiful liberation like no other...
Nudity through art is one of the most powerful liberations you and I can both experience together. You are a stranger to me. I am a stranger to you. And there is this moment when you're sitting there waiting to begin, and after I get my station setup I look at you and say, "okay, go ahead and take your clothes off." There's always this small hesitation, kind of a "do I trust this guy?" moment. You'll have that moment, then you'll remove your clothes. I'll look at you the way I would look at a blank canvas, and I will say, "okay, let's get to work."
What's it a liberation from? For me and most of my models, it completely detaches nudity from anything sexual. Most of us were raised to believe that nudity and sexuality go hand in hand, particularly when another person is seeing us nude. When we are working, we are working. My focus is on the details, and the color mixing, and the art itself. A body painting takes several hours at minimum, which is a perfect amount of time for the mind to just... Let go completely.
To this day, I have never painted a model who didn't want to come back and do it again.
You will need to come to me to be painted by me. For most of you that will require a plane ticket and other expenses. Will it be worth it? Absolutely. I can promise you full-heartedly that you will never look back and love a trip and investment as much or in quite the same way as this one.
I have a full professional art studio which we will do the body painting in (unless we do an outdoor painting). Body paint can make you really cold, but don't worry. I've got cocoa, coffee, and plenty of space heaters to keep you warm.
There is so much to be said about body painting and how fun, exciting, and incredible an experience it is.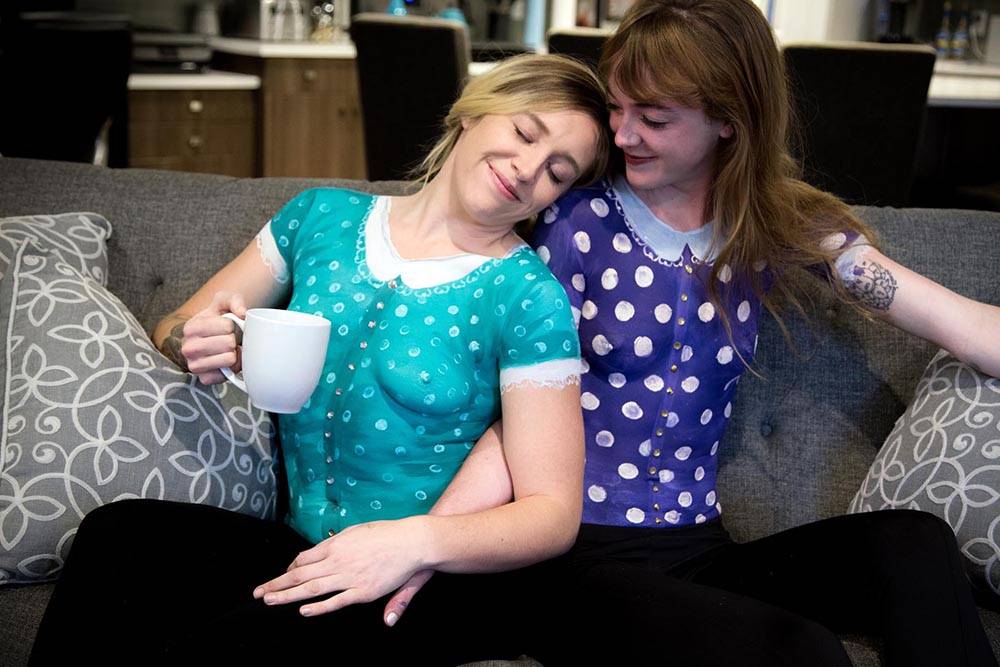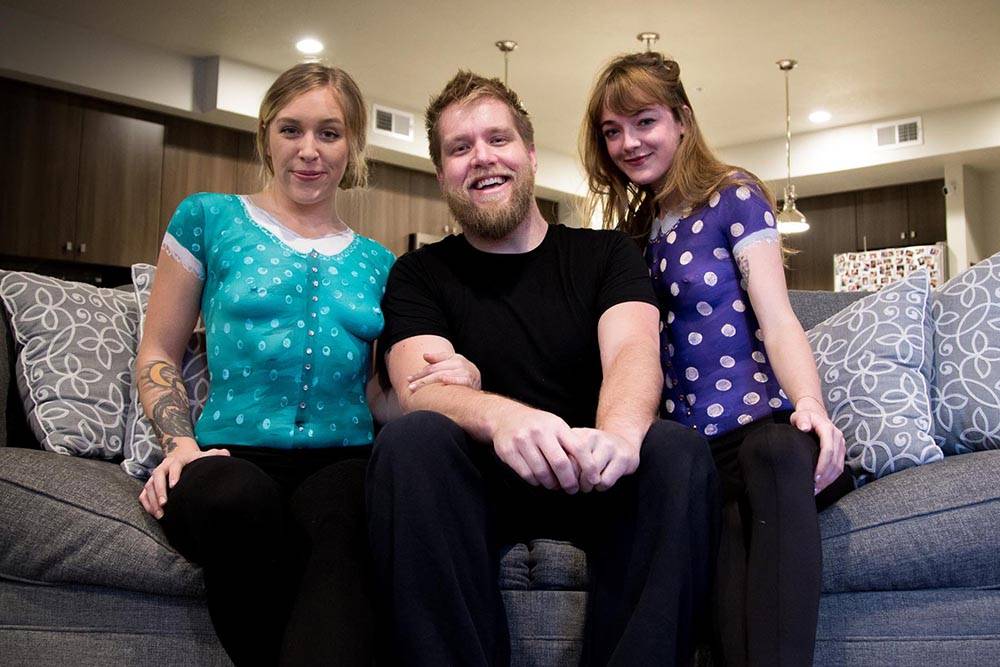 STEP ONE: FIND EXAMPLES YOU LOVE
There are a lot of amazing body painters out there who freely share their finished work. Go through some of it and find some concepts you love that we can use as an idea springboard. Find lots of them. This will get you excited about it.
STEP TWO: PURCHASE A PACKAGE
Choose one of the body painting packages below and purchase it. We will then discuss what you hope for us to achieve and choose a date in the next 15-30 days that works for both of us.

STEP THREE: SEND ME IMAGES FOR CONCEPT WORK
As a body painter, I avoid "free painting" wherever possible. Painting a body is like writing a book. If I try to do it without a clear plan from beginning to end of what I'm going to be doing, it's almost impossible to make it go where I want it to go.
This means you will need to step out of what is in most people's comfort zones and send me several near nude photos (topless, but panties are always fine). I use these to plan out our project on my iPad using your exact curvature, body type, breast shape, etc. This is required. Body art takes a lot of brain power for me to figure out how to distort lines on curved surfaces to make them look correct to the naked eye or to the camera. I spend several hours painting you before I ever paint you and then I send it to you to make sure you love what I came up with.
STEP FOUR: COME GET PAINTED!
Step four is the fun one. Come on out to Utah and let's get to work!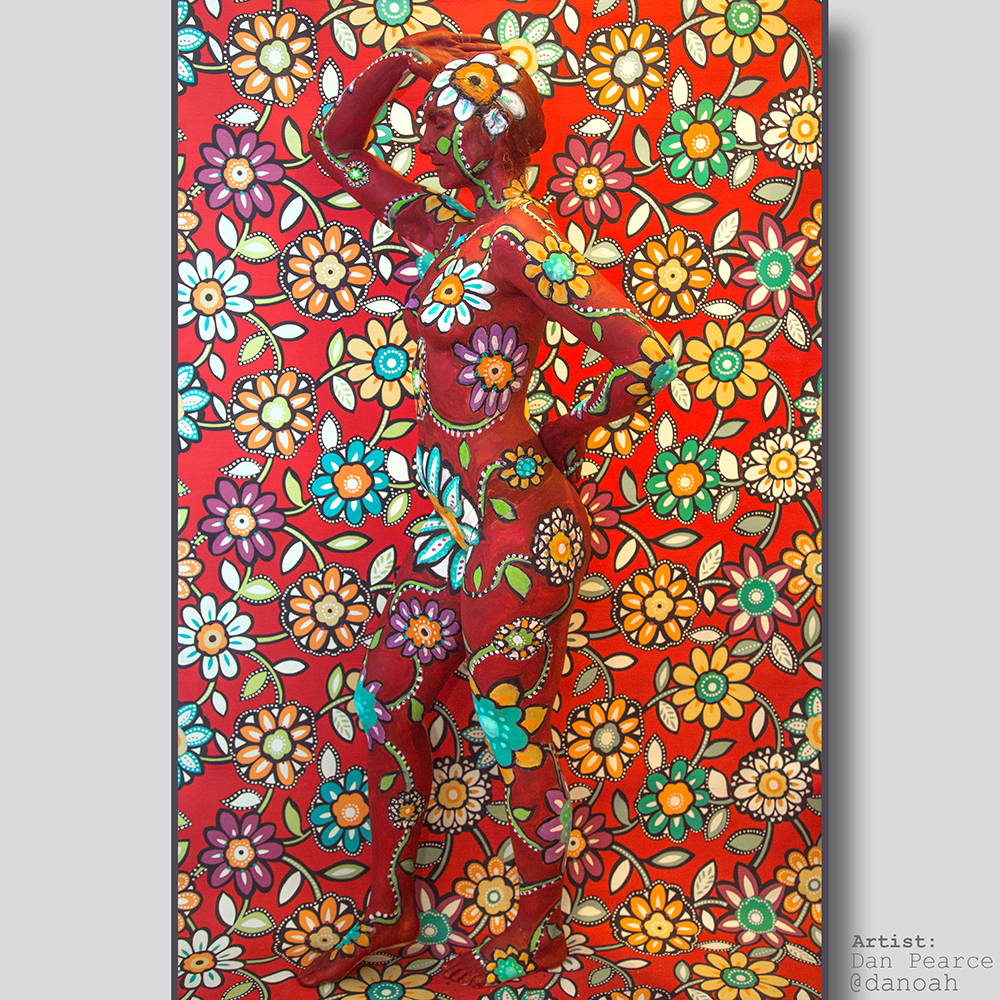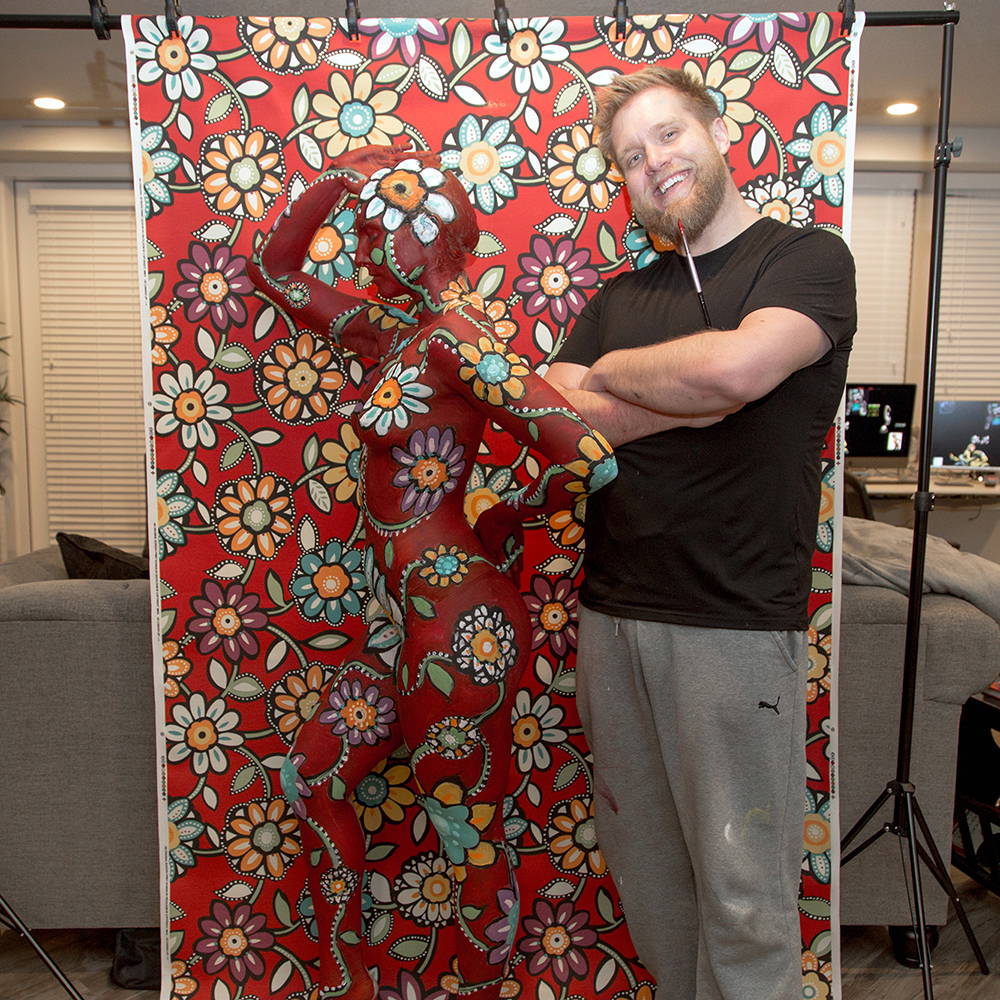 PACKAGE #1: Face and Neck Painting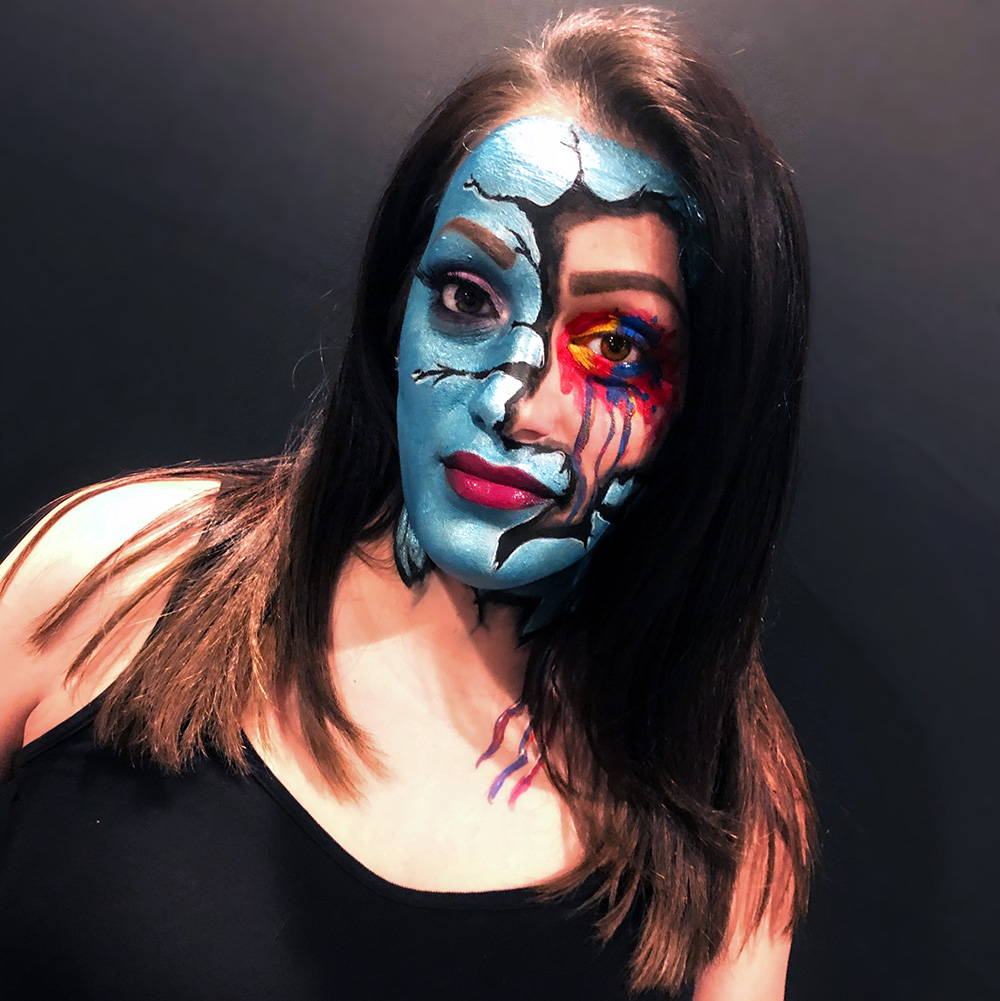 This isn't your state fair face painting. We will come up with a very cool concept based on examples you have found. Face and neck paintings can take just as long as painting a torso, and are a lot of fun if you want your face in the pictures but don't want to be nude.
PACKAGE #2: Full front torso (no face)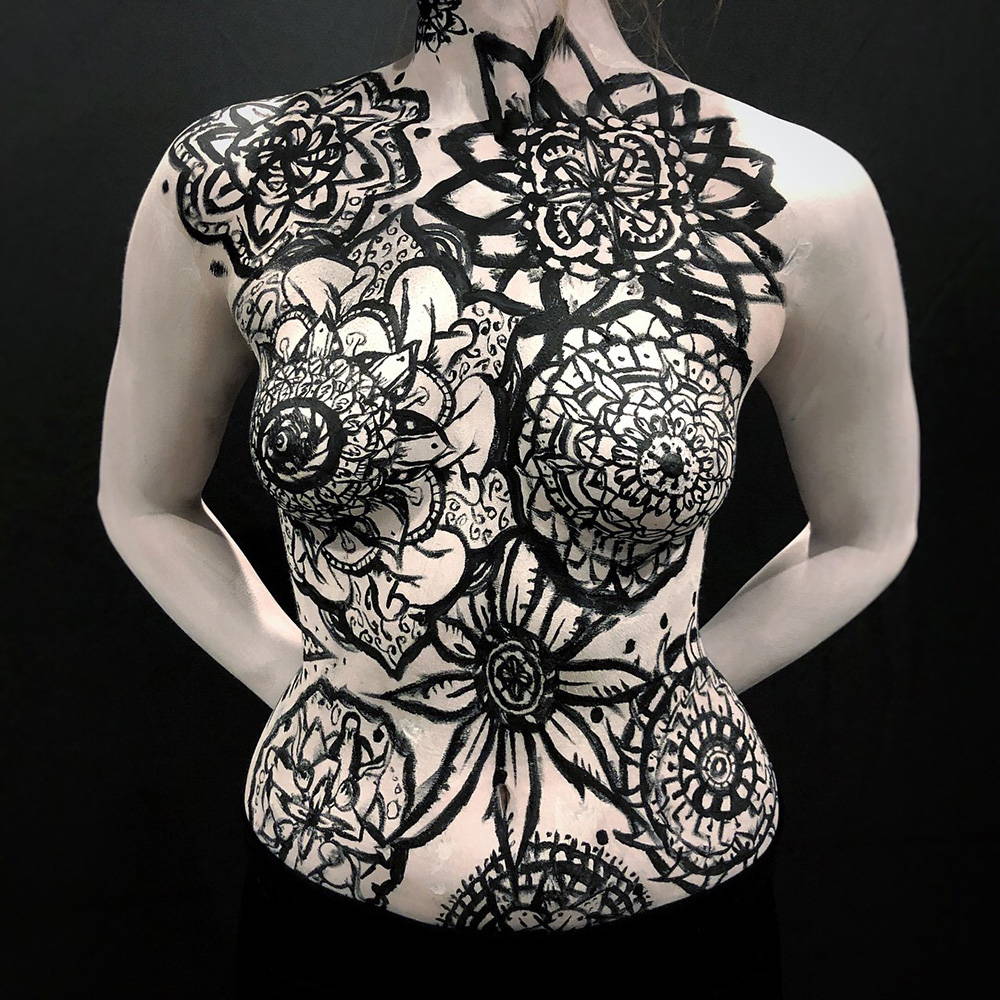 We will paint your entire torso and neck, down to your panty line. This includes arms if needed for the artwork. This can be something as complex and simple as this, or it can be full color and abstract.
PACKAGE #3: Torso front and back (no face)
This is the same as the full front torso, but we will paint your back as well. This takes a little less than double the time when all is said and done.
PACKAGE #4: Full upper body and face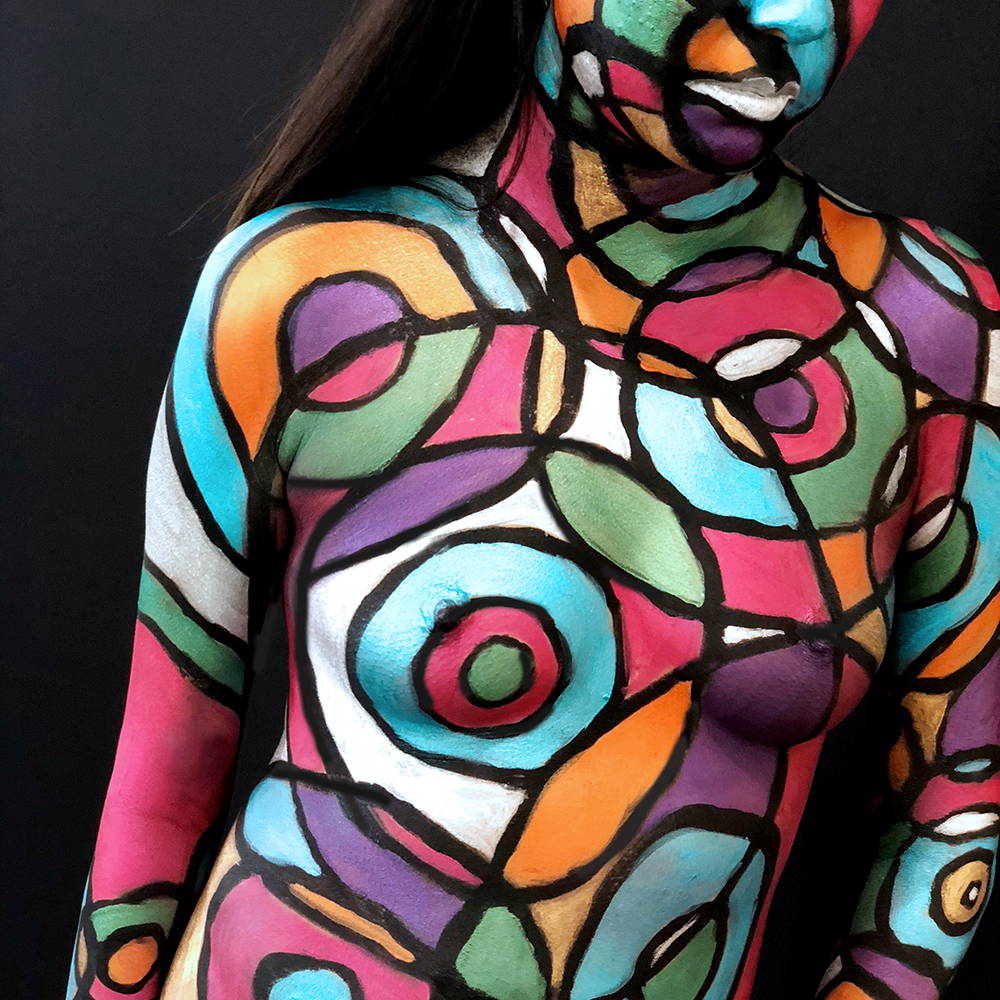 Some body painting projects just look more awesome when we do your face along with your body. This will let us do that, down to your panty line.
PACKAGE #5: Painted Clothing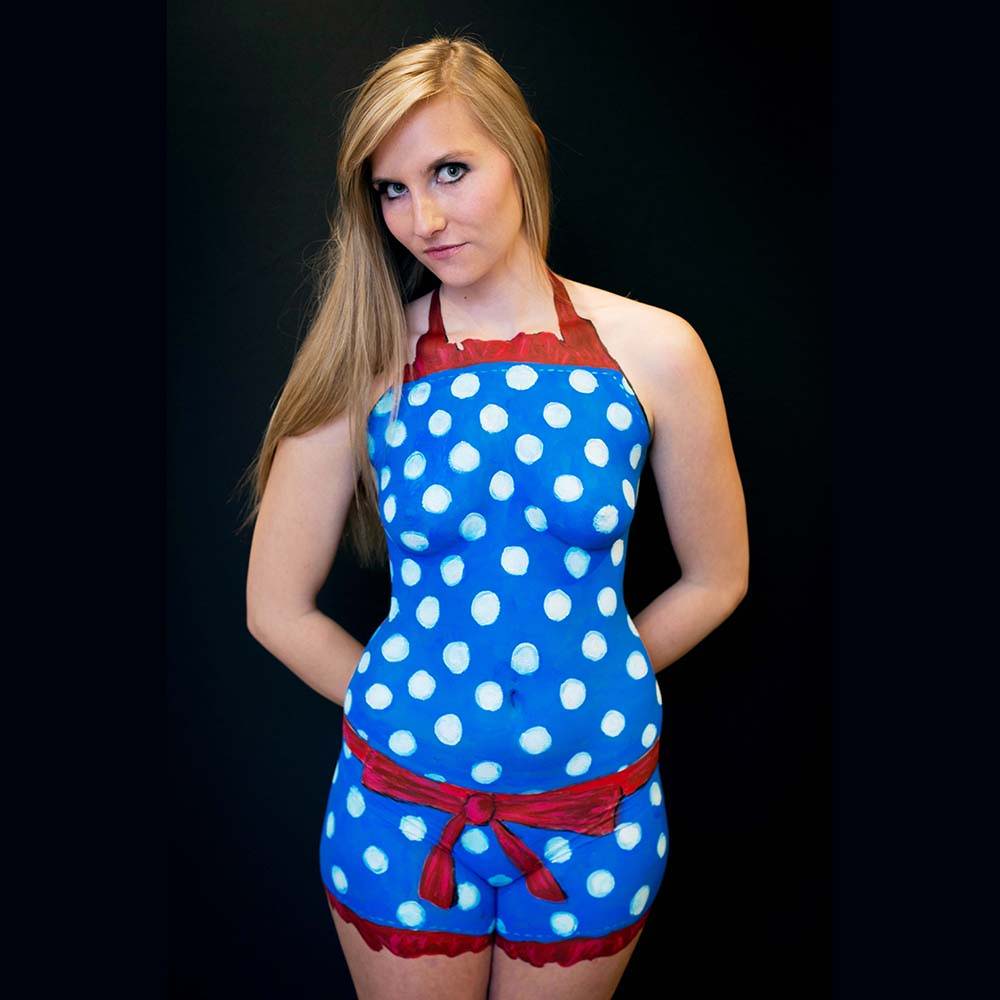 Lots of models love getting clothes painted on. It's almost as if it's a liberating paradox to be clothed while being naked and clothes paintings are always fun to do. We will only paint on your front side. If you want both sides, you'll need to purchase two packages.
PACKAGE #6: Full body camouflage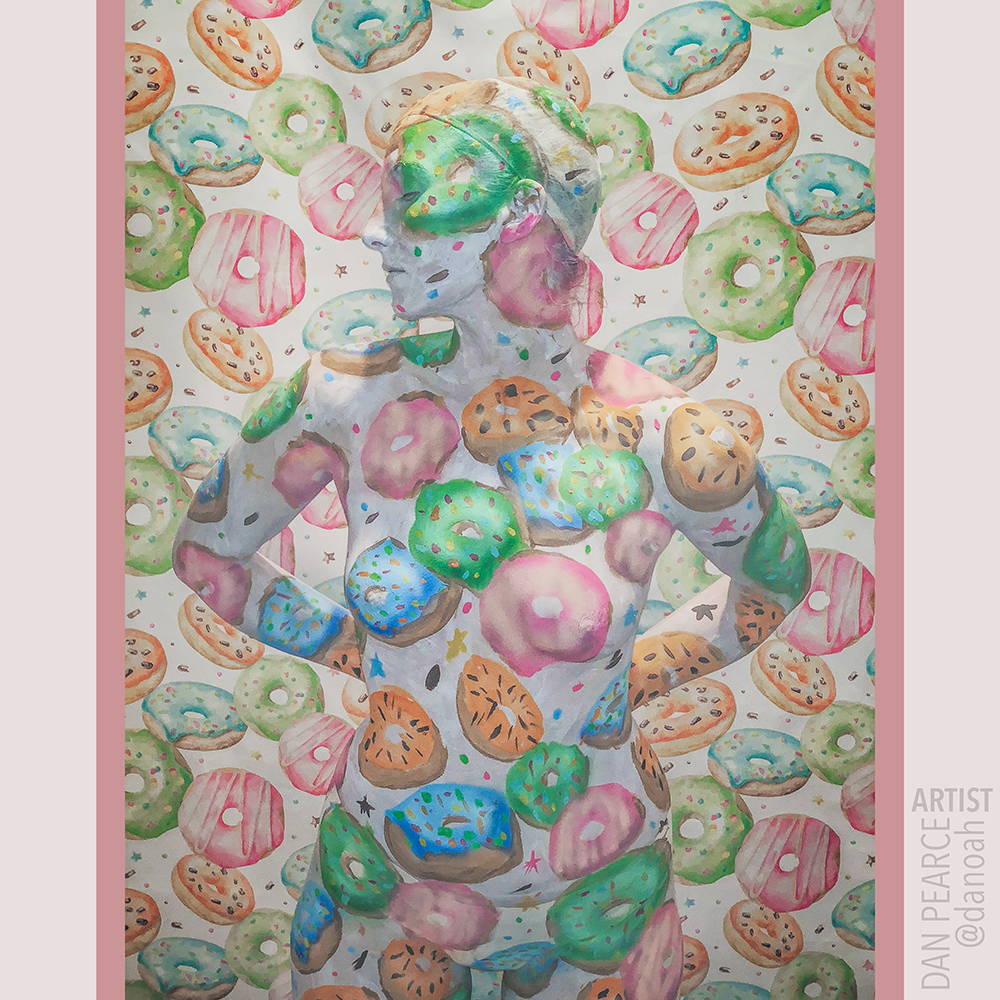 My personal favorite style is painting someone so that they disappear into the background. This is by far the most time intensive (it can easily take an entire day) but one of the coolest things you'll ever do.
PACKAGE #7: Simple Abstract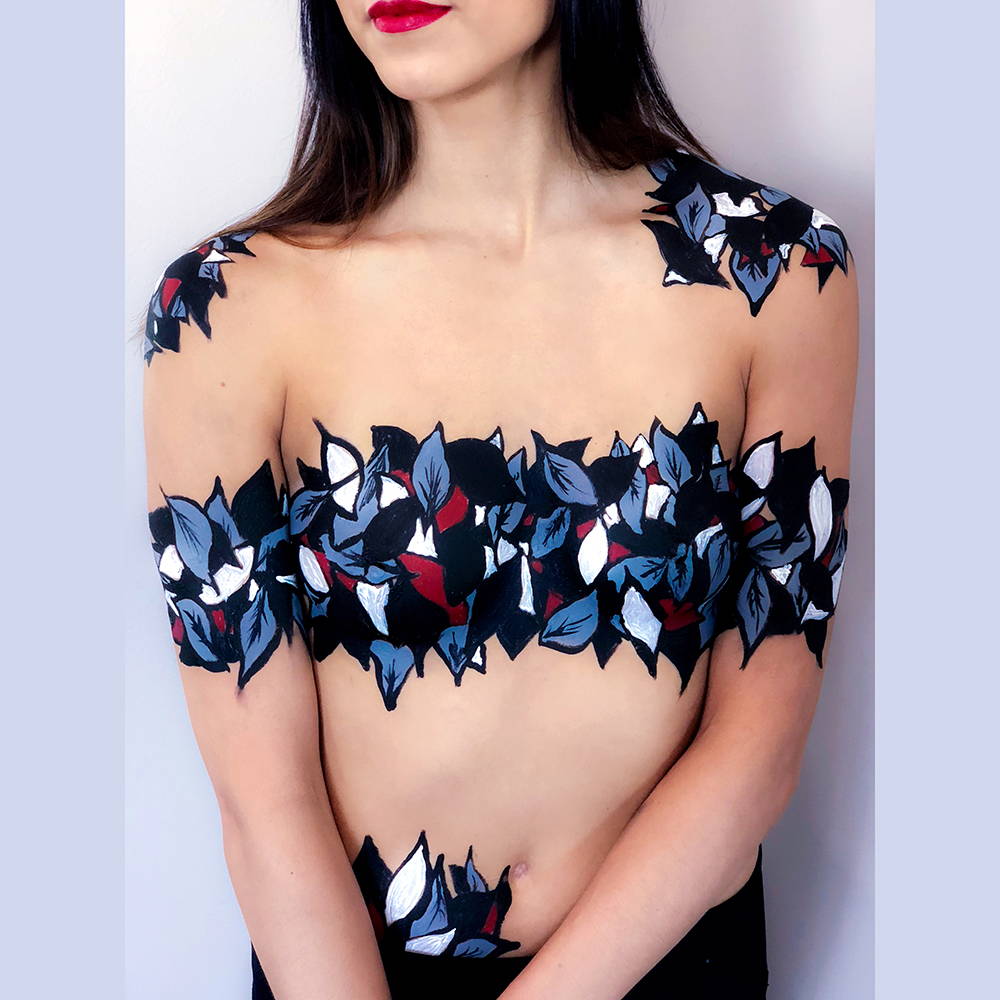 If you have an idea for body painting that is simple, yet detailed, this is the package for you.
PACKAGE #8: Complex Abstract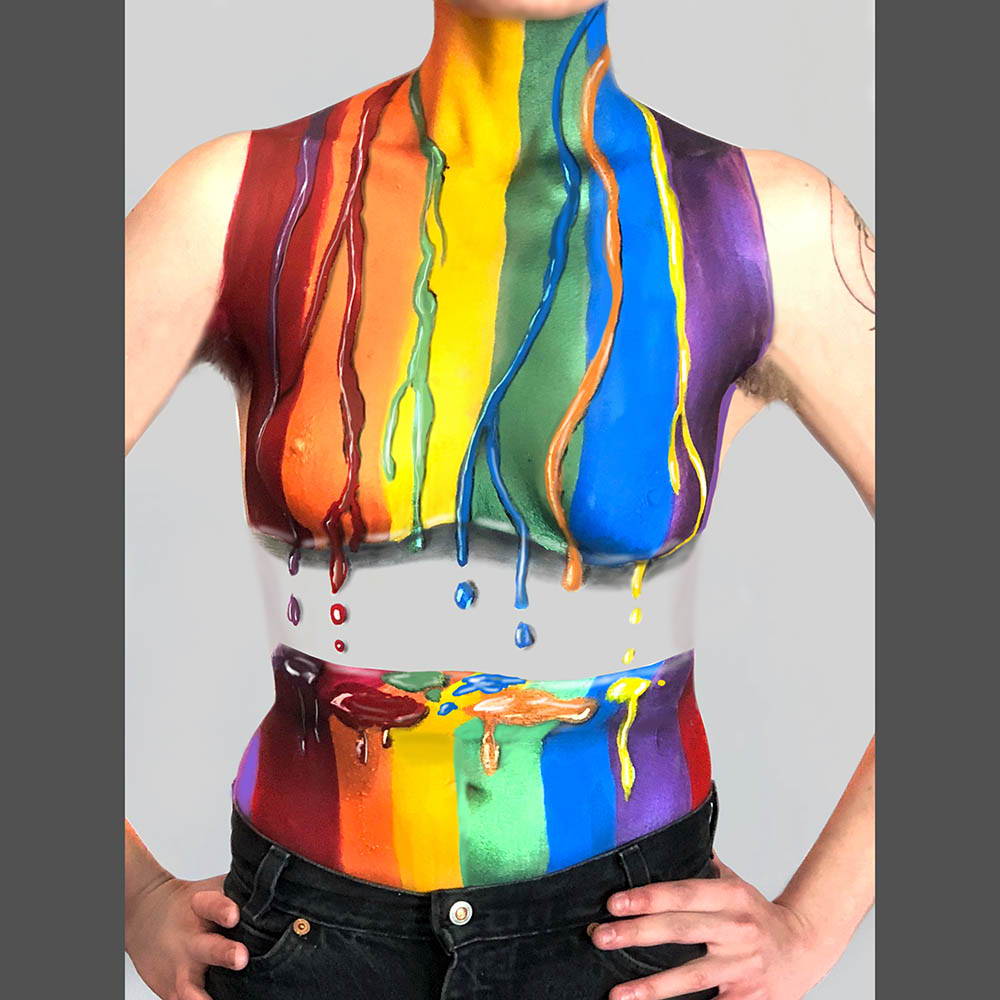 Other painting projects are far more intense and take a lot of planning before the project and a lot of time during the project. I'm happy to do it with you.
PROFESSIONAL PHOTO PACKAGE:
You're welcome to take as many picture with your own camera as you like when we're done. However, I highly suggest you choose to add my professional photo package on. I'll use extremely expensive L-Series Canon lenses to get amazing shots of your finished body painting, and then I'll edit them professionally on my computer before I deliver them to you.
Body paintings take hours and hours (and sometimes hours). If you choose the time lapse option, I will create a time lapse video that shows the entire process in just 30 seconds to 1 minute. If you plan to share this on social media, this option will be one of the coolest things your friends and family can see. I will give you one version uncensored, and one where I sensor out your nipples so that you can share it where desired.
Questions before you start?
You will enjoy yourself. You will have fun. You will get something amazing out of this. I am a good artist and I am not new to body painting or art. I have very expensive, very high quality paints, brushes, air brushes, etc. I have video cameras recording at all times to keep us both feeling safe. There are no money back guarantees with something like this, but if for any reason our first attempt bombs, we'll do it again and get it right. It hasn't happened yet, but you have that assurance.
I know you are spending a lot to be body painted by me. My prices are what they are so that I can give you the proper time and attention both before you get here and while you're here. I don't rush through anything just to make a buck. My work is important to me and so is your happiness with the finished work.
Body types and age can play a significant role in body painting. I can paint on any body type, though if you have a much larger canvas for me to paint on, I may need to charge you more. If you're worried about it, message me and I'll let you know. As for skin, age plays a role. The older you are, the more your skin absorbs the paint, and the body painting becomes more difficult. Don't worry. I know how to combat it, but just be aware that if you're older, you won't have the same smooth results as someone who is twenty.
One of the coolest parts of doing this with me is that I have millions of followers on Facebook and tens of thousands on Instagram. That is also one of the scariest parts. Only be willing to do this if you are okay with me sharing the finished results on social media and on my websites. I reserve the right not to, but I need to be able to as well. Of course, you are more than welcome to share all the pictures to your heart's content.
I have several pockets of availability always. Some spots are soon or we can schedule it out way in advance. Message me if you need an exact date and don't have much flexibility.
Cancelations and Schedule Changes
If you decide to cancel your trip, you will forfeit 50% of the body painting fee. I don't just do this for me. I do this for you so that you don't let cold feet stop you from having an amazing experience! If you need to change the dates of the body painting, that's usually fine as long as I can accommodate in my own schedule.
An awkward but important note
I have been in the public eye for a decade now. This means I have fans and followers, many of whom would love to meet me. This is a professional opportunity and I intend to keep it that way. Please only purchase a body painting package if you also feel the same way. I really appreciate it!
Now... Let's paint!